McPherson Distinguished Teaching Awards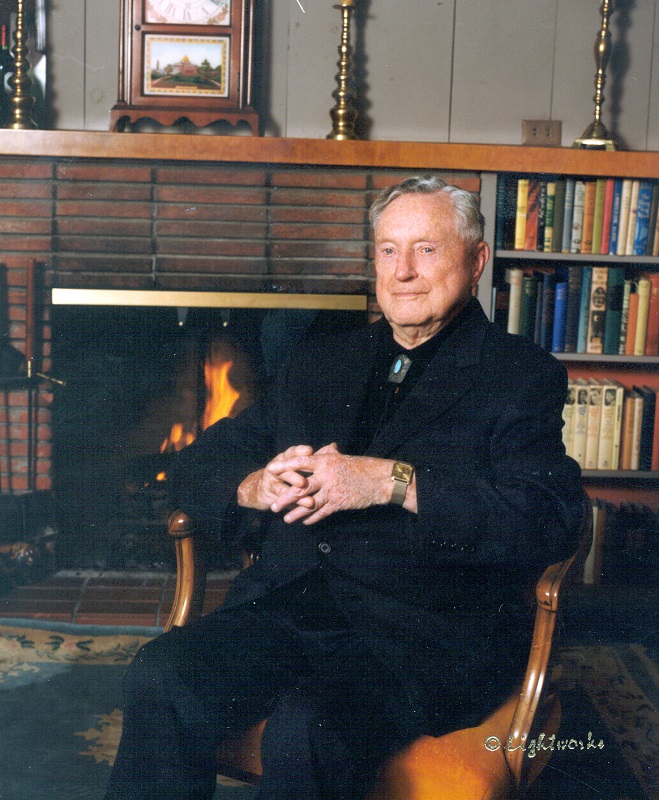 The McPherson Distinguished Teaching Award for Excellence in Teaching & Outstanding Commitment to Quality Education. The McPherson Distinguished Teaching Award is funded by the McPherson Endowment established by the founding president Dr. Harry McPherson and his family now held by the Napa Valley College Foundation.
Founding President Dr. Harry McPherson has helped generations of Napa Valley College students. From his vision and institutional leadership to his support of scholarships and encouragement of individual students, he touched many lives. Establishing the McPherson Distinguished Teaching Award is another example of his support of our outstanding faculty and his commitment to excellence in education.
2023 McPherson Distinguished Teaching Award

The Office of Academic Affairs and the Napa Valley College Foundation congratulate this year's recipient of the 2023 McPherson Distinguished Teaching Award, recognizing excellence in teaching and outstanding commitment to quality education.


Janet Stickmon is a professor, author, educator trainer, and wellness consultant who has been teaching for over 25 years. Stickmon has been a professor of Humanities and Ethnic Studies at Napa Valley College (NVC) since 2006. Throughout her career at NVC, Stickmon served as the Program Coordinator of Humanities and Philosophy, expanded the Ethnic Studies curriculum, established the Ethnic Studies Department, and became the founding Program Coordinator of the NVC Cultural Center: a hub for scholarship & dialogue and co-curricular activity under the Humanities and Ethnic Studies Departments committed to achieving greater unity, diversity, equity, and inclusion.
Stickmon is a founding member and enduring advocate of the NVC Umoja Learning Community and a part of the team instrumental in spearheading the Kasaysayan Pilipinx American Learning Community. She was also part of the founding team of facilitators of the Instructional Design Institute: Culturally Responsive Pedagogy workshop series. Stickmon's classes are typically full with a waiting list, being known for providing a safe space for difficult conversations related to race, gender, class, and ethnicity.
Janet Stickmon is the author of Crushing Soft Rubies—A Memoir, Midnight Peaches, Two O'clock Patience—A Collection of Essays, Poems, and Short Stories on Womanhood and the Spirit, and To Black Parents Visiting Earth: Raising Black Children in the 21st Century. Stickmon's essays are featured in The Huffington Post, Mutha Magazine, Read to Write Stories, Positively Filipino, Red and Yellow, Black and Brown: Decentering Whiteness in Mixed Race Studies, and The Sage Encyclopedia of Filipina/x/o American Studies.
Stickmon also has 25 years experience practicing meditation and integrating mindfulness practices throughout all her courses. Stickmon is the founder of CenterJoyPWR®: Strategies for Healing Racial Battle Fatigue—a program designed for professionals of color seeking to center joy in their lives.
Congratulations to Professor Stickmon!
---
List of Past Winners ​
Cathy Gillis
Professor of English, Distance Education Coordinator, and Honor Society Advisor




Jeannette McClendon
Professor of Counseling and Umoja Coordinator / Instructor / Counselor




Jennifer King
Professor of Theater Arts, Arts and Humanities Faculty Chair, Theater Arts Coordinator, Performing Arts Center Artistic Director, and Shakespeare Napa Valley Artistic Director

2020
Dr. ​Sally Baldwin
Dr. Lisa Yanover
2019
Kelly McCann
Paul Gospodarczyk
2018
Dr. Steven Fawl
Paul Wagner
2017
Randy Villa
2016
Dr. Daniel Clemens
2015
Dr. Forest Quinlan
Maria Villagomez
Dr. Mani Subramanian
2014
Glen Bell
William Miller
2013
Dr. Tia Madison
Martha Elizalde de Pereira
2012
Andrea Bewick
2011
Rick Donohoe
2010
Shawna Bynum
Dr. Nadine Wade-Gravett
2009
Michael Conroy
Dr. Linda Napholz
2008
Ann Gross
Sable Howard Hughes
2007
Dianna Chiabotti
Rebecca Scott
2006
Noreen Martin
Denise Rosselli
2005
Laura Ecklin
Bill Fried
2004
Linda Simpson
2003
Lauren Coodley
Jeff Omodt
2002
Carole Chassereau, RN
Nick Anast
2001
Dr. Melody Seymour
Lauralyn Bauer
2000
Anne Evans
Helen Ortega
1999
Carole Kent
Kate Benscoter
1998
Gary Vann
Dr. Jerry Somerville
1997
Peter Wright
Emily Cosby
1996
Mignon Stephenson Graham
Robert Chudnofsky
1995
Carolyn Fruchtenicht
Christy Kling
1994
Dr. Stephen Krebs
Dr. Charles Ray
1993
Gwynne Pacheco
John Langenbach
1992
Dr. Roberto Juan Gonzalez
Jean Schroeder*
1991
Richard Bremer
Sylvia Mastroyannakis
1990
Janet Gonzalez-Mena
Barbara Klemenok-Rasmussen
1989
Ernest Abbott*
Dr. Chris Burditt
1988
John Charlesworth
William Blair
1987
Dr. George Hagen*
Dolores Fischer
* deceased