Representative Appointment Information
general counseling
Prospective Students
A NVC Student Application is required for all Counseling Services.
Current Students
We are honored you are here! Counselors are connecting with students by appointment. You can self-schedule counseling appointments online or connect with our front office for help with scheduling. Appointments are accessible in-person, video, and phone, we recommend you meet with a counselor twice a semester (or) as needed.
college and univ. representatives
Did you know you can schedule a 30-minute phone or zoom meeting appointment with University Representatives? The reps primarily will be sharing facts on the application process, tuition, fees, financial aid, academics, campus life, and services.
Don't see the College/University that you are interested in when you make an appointment? Email Transfer.Center@napavalley.edu and we will obtain the requested information for you.
If you are a college/university transfer representative here is the link to ConexED for your appointments.
UC Berkeley: Please complete the intake form before you schedule your meeting.
UC DAVIS TOP APPOINTMENTS
Lisa Overstreet is your UC Davis representative. Please click here to schedule with her. Appointments will be available for fall beginning in late August/ early September.
Please make sure that your TAP account is complete before you meet with her or any other UC representative.
Click here for more information on Group Advising sessions.
1- hour sessions grouping students with shared interests, careers/majors, or program participation
Click here for more information on Top Thursday workshops.
1-hour sessions on a variety of transfer preparation workshops addressing the needs of prospective and currently admitted students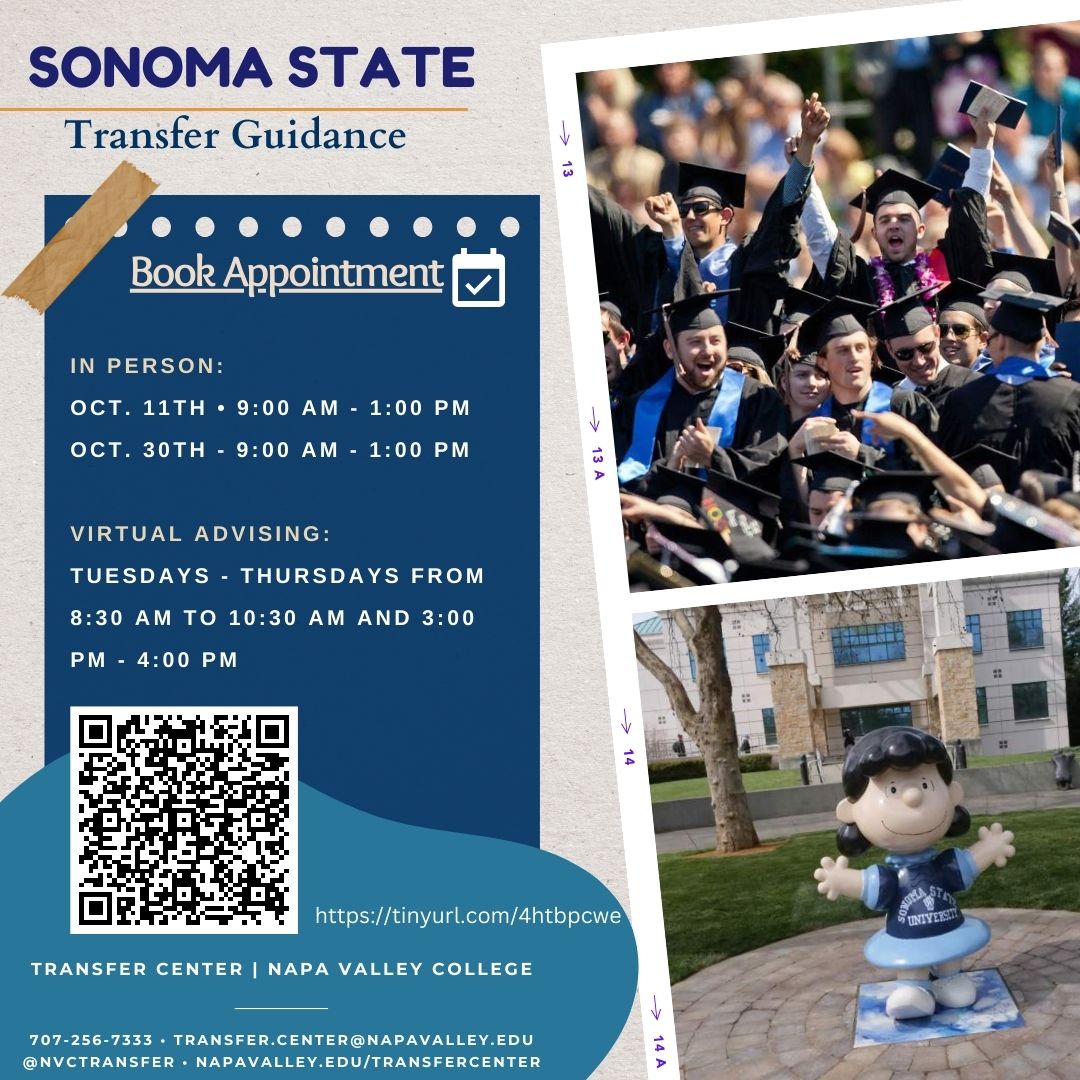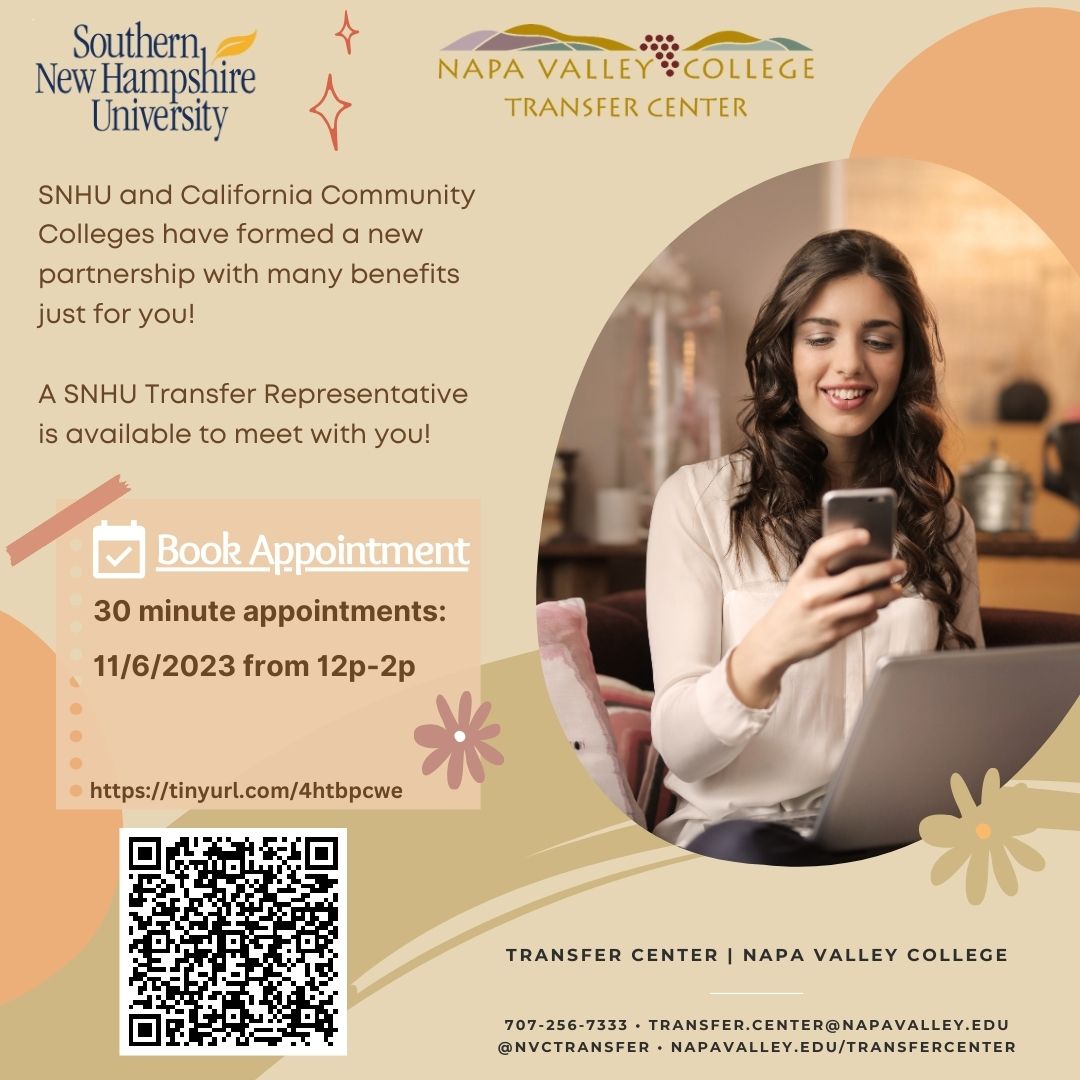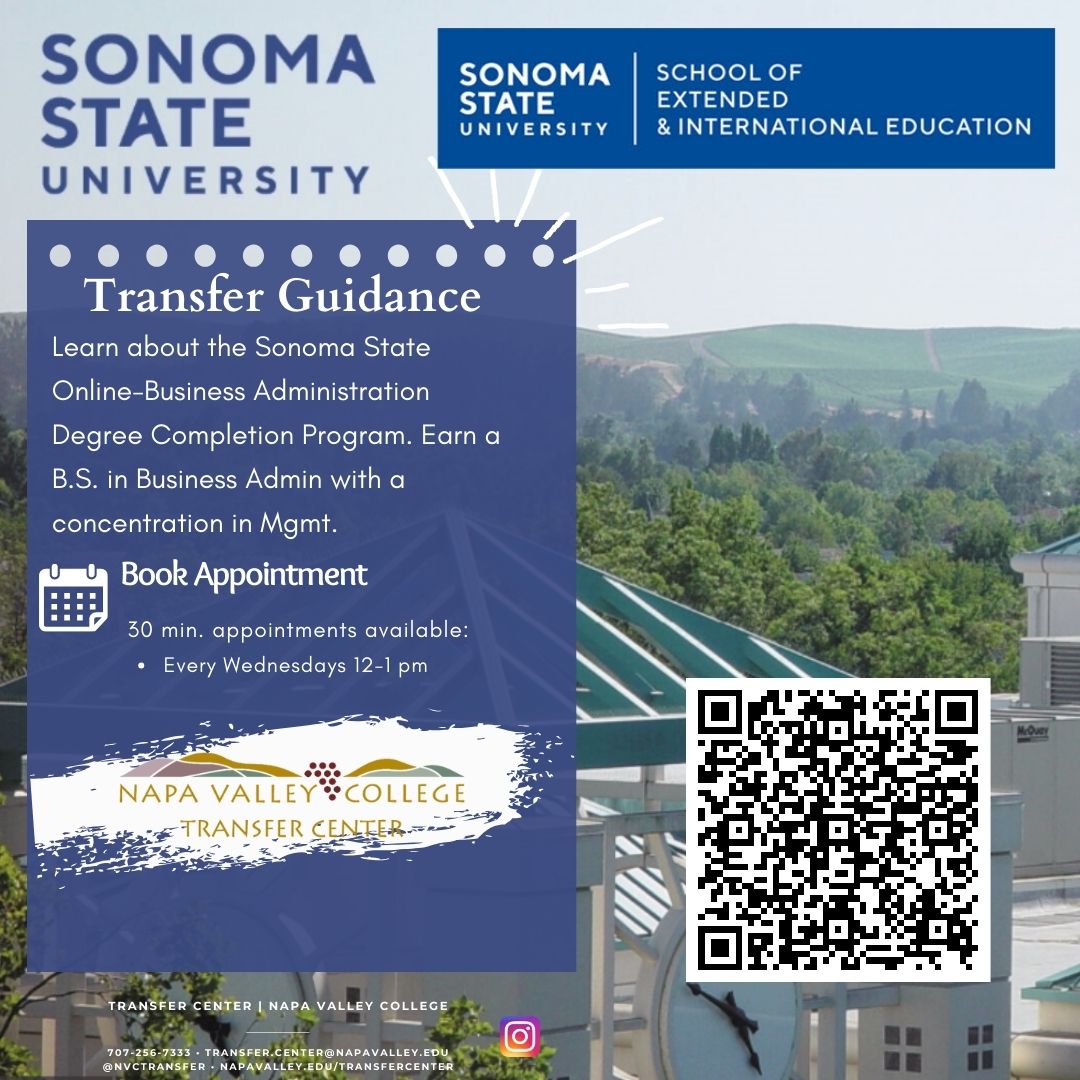 REPRESENTATIVE CONTACT LIST (A-Z)
REPRESENTATIVE CONTACT LIST by type
Appointments are available for 4-year schools. Simply click on the green button above to get started
For UC schools, please complete your TAP account prior to your appointment.
Questions to consider asking the representative:
What academic programs is your college known for, and how difficult would it be to enroll in the ones that interest me?
What financial aid opportunities does your school provide, and what is the average amount of the aid package?
How would you describe the academic pressure and workload?
What is the ratio of instructors to students, and are the instructors readily available for interaction outside the classroom?
Can you list some campus life facts and amenities that make your school stand out?
What are the rules governing freshmen's course selection, and are most courses readily available?
Can you name some of the important support services for students and graduates?
What is the application success rate?
Is there anything you can share about your school's application process that can help me succeed if I apply?
Do you have career services?
Tell me about housing.

Does your campus admit students in an alternate major if they cannot be accommodated in their first choice major?
Classroom Presentations
NVC's Transfer Center is available to discuss various transfer topics with your class or student support program. If you are a NVC employee and would like for us to present to your class or your division meeting, then please send an email to mhinchcliff@napavalley.edu or complete this request form.