Workshop & Event Calendar
FALL 2023 Workshop Calendar
Click Here For Printable Flyer!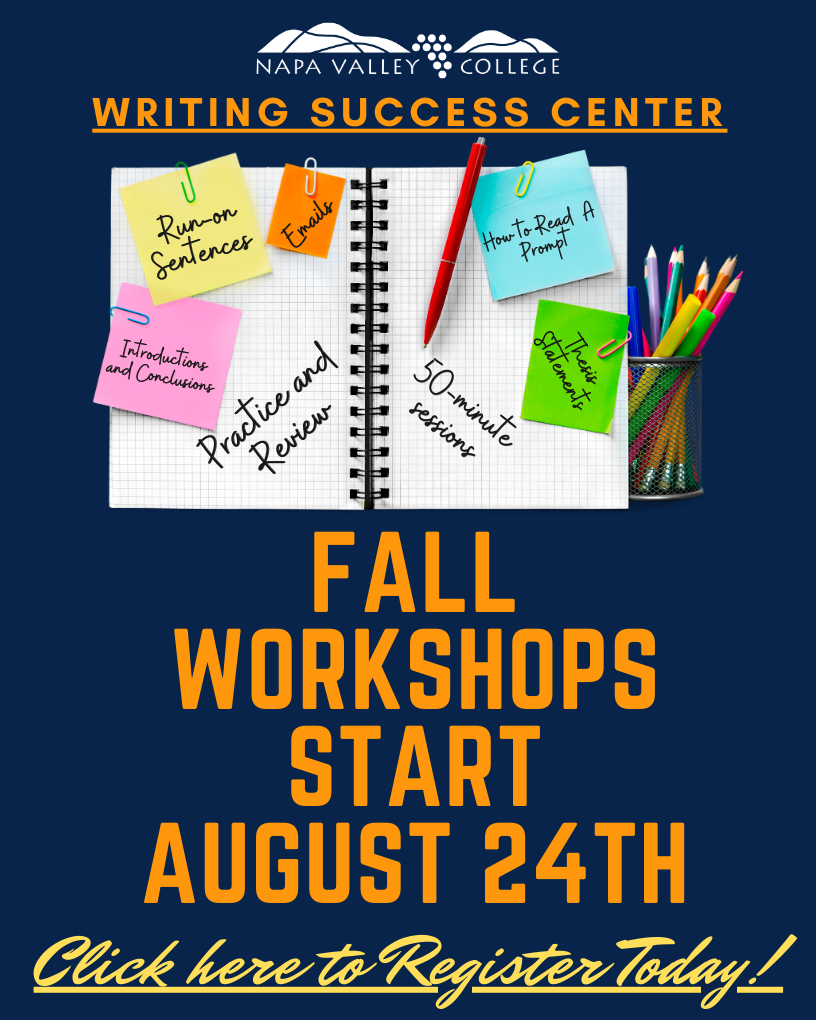 If you are attending a workshop for extra credit, please register in advance using the WCONLINE Schdule. You will also need to be registered in WCONLINE. For help signing up for workshops, please check out THIS VIDEO.
All workshops will be held either via Zoom, in the Writing Success Center (Room 832), or both via Hybrid access.
See below in the "PLACE" Column for more information on how each individual workshop will be delivered.
grammar Series
WORKSHOP TOPIC
INSTRUCTOR
DATE
TIME
PLACE
PRE-REGISTER HERE!

"Slow Down! Complete Your Thoughts"

fragments

run-ons

commas


punctuation

Prof. Cathy Gillis

Tuesday

August 29th

&

September 26th

11am

Hybrid
ZOOM LINK

On Campus in Room 832

How to sign up

"Wait,Who? When?"

Agreement
pronouns
prepositions

Prof. Cathy Gillis

Tuesday

September 5th

&

October 3rd

11am



Hybrid
ZOOM LINK

On Campus in Room 832

How to sign up

"Use your Voice"

passive vs. active
Voice
Parallelism
sentence types & variety (adding complexity/
polishing)

Prof. Sandra Gardiner

Monday

September 11th

&

October 9th

1pm

Hybrid
ZOOM link

On Campus in Room 832

How to sign up

"Of course, of course"

phrases
style
concrete vs abstract

Prof. Christine Pruitt

Wednesday

September 13th

&

October 11th

2:30pm
Online
ZOOM LINK
How to sign up
Essay Series
WORKSHOP TOPIC
INSTRUCTOR
DATE
TIME
PLACE
PRE-REGISTER HERE!

"Starting Your Writing"

Prof. Cindy Stanphill-Barandalla

Wednesday

September 6th

&

November 1st

1:30pm

Hybrid
ZOOM LINK

On Campus in Room 832

How to sign up

"Helping Your Writing Make Sense"

Prof. Brian Larsen

Thursday

September 14th

&

November 9th

11am

Hybrid
ZOOM LINK

On Campus in Room 832

How to sign up

"Completing Your Ideas"

Introductions
Conclusions

Prof. Karen Larsen

Monday

September 18th

&

November 13th

3:30pm

Hybrid
ZOOM LINK

On Campus in Room 832

How to sign up

"Connecting Your Ideas"

Body Paragraphs
Transitions

Prof. Aaron DiFranco

Thursday

September 28th

&

November 30th

4pm

Hybrid
ZOOM LINK

On Campus in Room 832

How to sign up

"Integrating Readings In Your Writing"

MLA
APA
Integrating Sources

Prof. Lisa Yanover

Wednesday

October 4th

&

December 6th

12pm

Hybrid
ZOOM LINK

On Campus in Room 832

How to sign up

"Cleaning Up Your Writing"

Prof. Sara Rossini

Thursday

October 12th

&

December 7th

3pm

Hybrid
ZOOM LINK

On Campus in Room 832

How to sign up
"Being" Series
Workshop TOPIC
INSTRUCTOR
DATE
TIME
PLACE
PRE-REGISTERHERE!

"Being Professional"

Email
Business Writing
Effective Communication

Prof. Christine Pruitt

Wednesday

August 30th

&

October 4th

2:30pm
Online
ZOOM LINK
How to sign up

"Being Academic"

Prompt Reading
Active Reading Strategies
Discussion Posts

Prof. Kelly Ryan

Thursday

August 24th

&

October 19th

12pm
On Campus in Room 832
How to sign up
Research Series
Workshop Topic
Instructor
Date
Time
Place
Pre-Register here!

"The Research Essay"


Research Elements
Prospectus

Prof. Brian Larsen

Thursday

October 26th

11am

Hybrid

On Campus in Room 832

How to sign up
Special Fall Workshops: UC Personal Insight Questions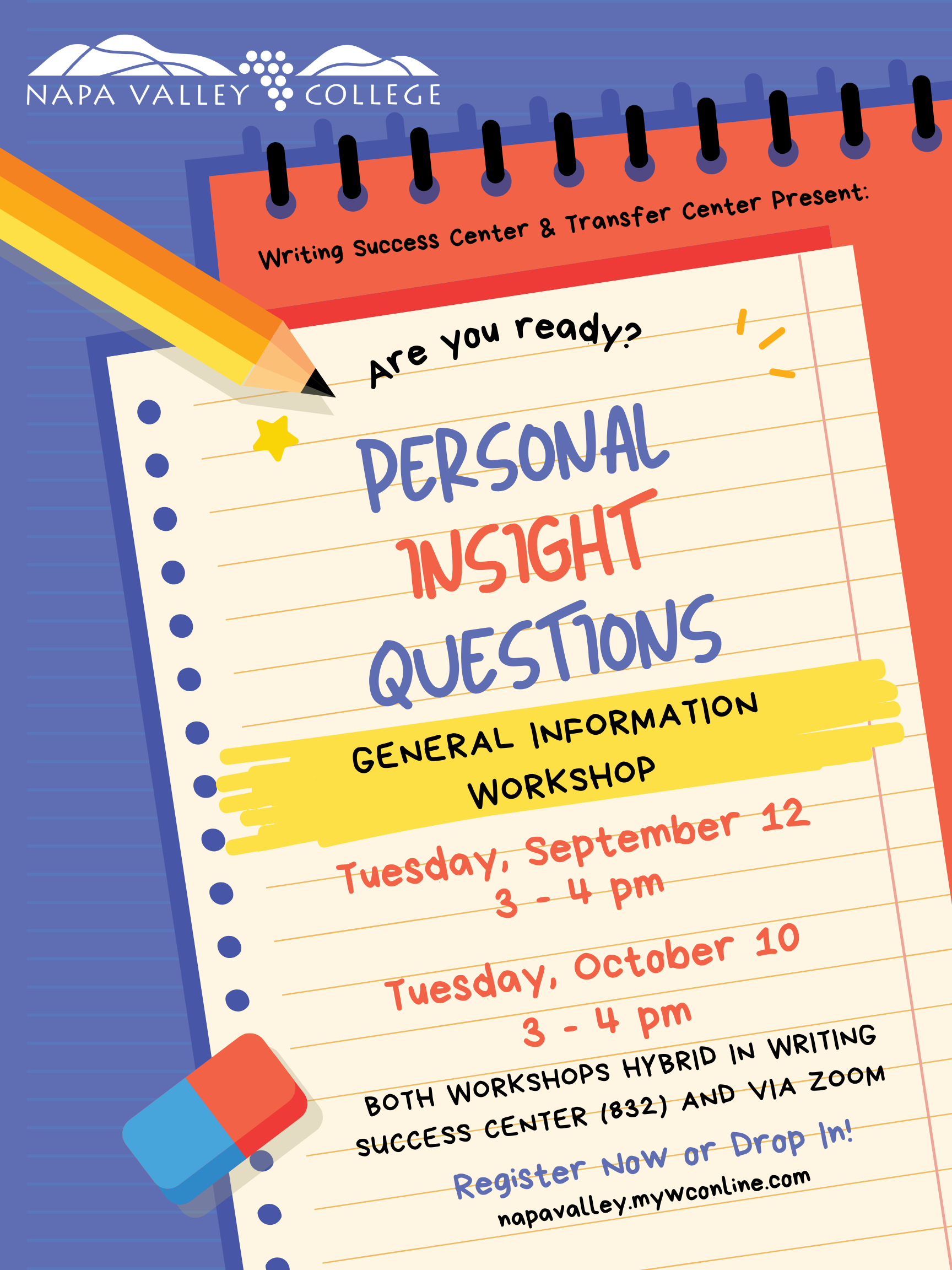 Workshop Topic
Instructor
Date
Time
Place
Pre-Register here!
"Personal Insight Questions"
Prof. John Kincheloe

September 12

&

October 10

3pm

Hybrid

On Campus in Room 832