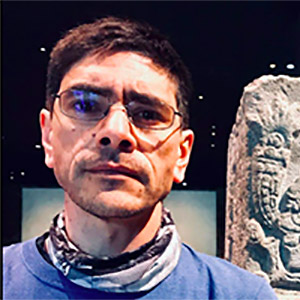 Carlos Miguel Bazua-Morales
(He/Him)
Part-time Instructor
Social Sciences
Degrees
BA Anthropology, M.A. Social Anthropology
PhD World Cultures
Bio
As a Mexican anthropologist living in California, I have developed a multicultural perspective to education that shapes my presented teaching practices. My teaching philosophy has been molded by my diverse Latin American background and academic experience as both a student and teacher in different educational institutions in Mexico, the US, India and Turkey. The most formative experience was early on in my junior high education. Attending Centro Activo Freire in Mexico, I taught adults in month-long literacy summer programs in rural areas for multiple summers. Witnessing alarming social and educational inequalities in my own country, I began to understand the role of a teacher as helping to both unveil and bridge these gaps. Addressing social inequality through educational access has continued to be an important theme throughout my teaching career.
A range of work and academic experiences has prepared me to teach a diverse range of Introductory Anthropology courses in the last 7 years. As a fluent English-Spanish bilingual, I have published articles and produced films in both languages. I graduated with a BA in Anthropology from the University of California at Berkeley in 1997. From 1998 through 1999, I worked as an Observer of the Socio-Economic Peace Accord Process as part of the United Nations Mission in Guatemala (MINUGUA). In 2002, I received my master's in social Anthropology from the Center for Superior Studies in Social Anthropology in Mexico (CIESAS). I returned to California to work in the Mexican Consulate in San Francisco in the Community Affairs Program. Before entering UC Merced, I produced a number of films including "Only What is Fair" (1997) filmed in Watsonville, California. The film investigated the structure of the strawberry industry and the organizing efforts of the United Farm Workers to incorporate workers to its ranks. And the ethnographic film "The Journey: Oxkutzcab-San Francisco" (2006) which explored the migration of Yucatec Maya to the city of San Francisco and won "Best Ethnographic Film" at the Berkeley Film Festival.
In total, I have created six independent community-based ethnographic films examining a wide range of social, religious, sporting, cultural, health, migrations, labor and political issues. For my courses I bring my research/film focus on indigenous rights, migration, resistance, shamanism and ritual among diverse Maya, Nahua, Mixtec and Wixarika/Huichol groups into the course curriculum. I also incorporate my experience working in the United Nations peace verification Mission in Guatemala and the Mexican Consulate in San Francisco.
At Napa Valley I first begun teaching Anthropology, and later was invited to teach with Prof Janet Stickmon in the Ethnic Studies Classes of ChicanX Studies X and Latin American Studies.