Academic Regalia (General)
Gown colors
Most students wear dark green gowns.
PTEC students wear grey gowns.
Nursing students wear white gowns.
Respiratory Therapy students wear blue gowns.
Students are required to wear academic regalia to participate in the ceremony.
The NVC Bookstore is now selling regalia and other graduation items such as announcements and stoles. The cost of the regalia is $56.98 plus tax. The bookstore will only carry the Dark Green regalia in-store. Students may purchase their regalia at the bookstore during store hours, or on the vendor's website (link & QR code below). Last day to order from the vendor's website is April 16, 2023, to guarantee delivery before the Commencement date. After that date, regalia is only available to purchase at the bookstore.
We encourage graduates to get their regalia early and not wait 'til the last minute.
https://napavalley.shopoakhalli.com/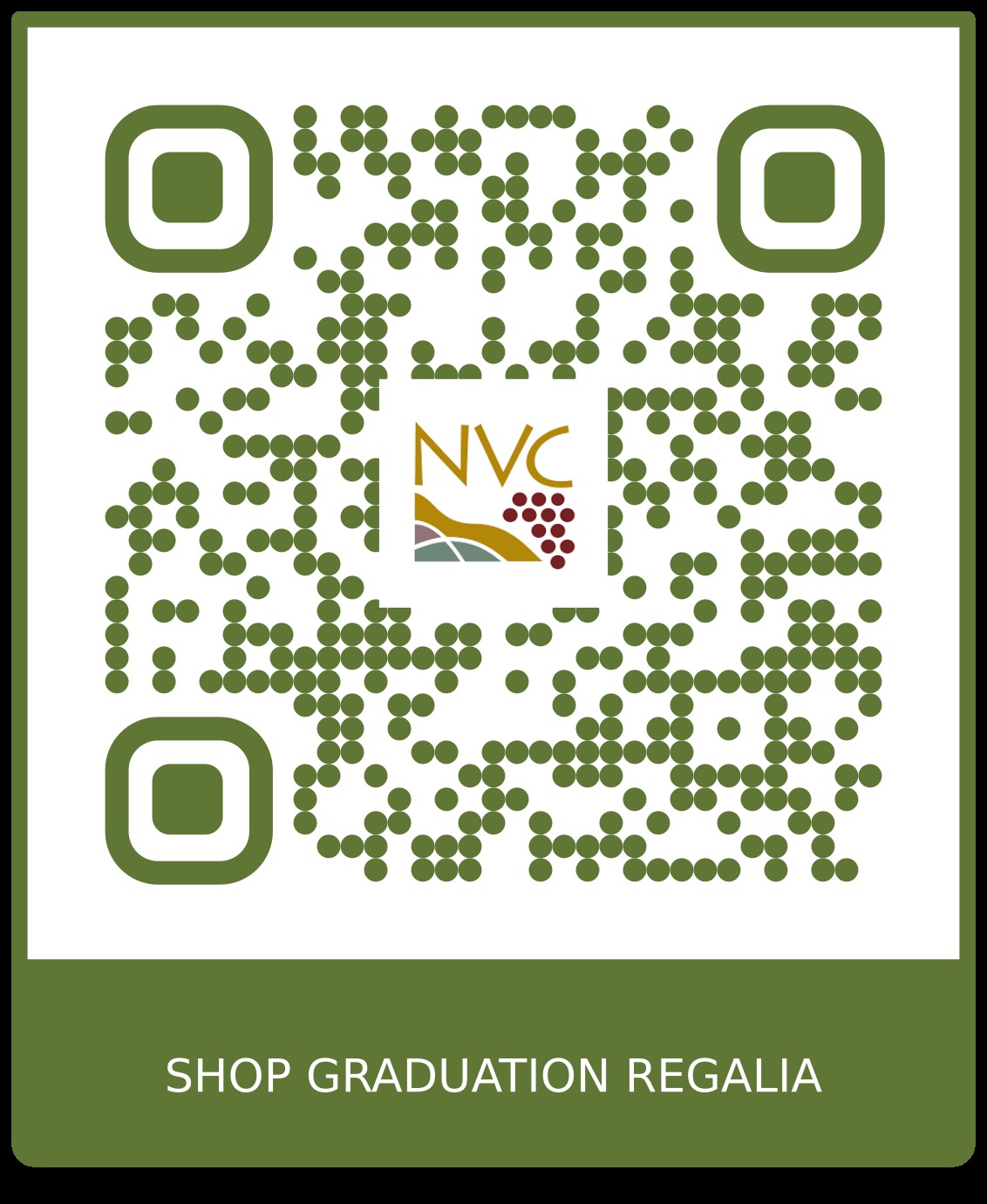 The Bookstore Hours and Contact Information:
Mon - Thur 9:00 - 4:00 p.m.
Fri, 9:00 - 1:00 p.m.
(707) 256-7480
Bookstore@napavalley.edu
Academic Regalia for Alpha Beta Gamma (ABG)
Students who complete at least 12 units of transferable or degree applicable business curricula with a 3.0 GPA or better are eligible to be admitted to the NVC chapter of the International Business Honors Society. ABG members demonstrate their academic achievement by wearing the official Alpha Beta Gamma sapphire blue stole and/or gold tassel. To purchase these items, go to the ABG website or call (800) 844-5323.
Academic Regalia for PTK Honor Society Members
As honor society members, it is your right to demonstrate your academic achievement by wearing the official Phi Theta Kappa gold stole, cord, pin, and/or tassel. To purchase these items year-round call the International PTK Store at (800) 946-9996, or shop online at the PTK Store website. Our chapter name is Beta Beta Sigma. If you are a spring inductee, tell them your membership information was recently sent via PAM. Some programs (SSS, EOPS, etc.) on campus will pay for your honors regalia, so check with these programs first.