SAVE THE DATE for ¡VIVA MARIACHI! 2023

We invite you to mark your calendars for the 3rd Annual ¡Viva Mariachi! on April 1st, 2023!
We will once again celebrate the rich heritage and cultural traditions of Mexico through Mariachi music and education.
Mariachi Music - the perfect gateway to higher education
Mariachi education programs are growing nationwide as schools boost student success and increase access by adding mariachi into band and orchestra programs.
These programs also increase cultural awareness and provide students an opportunity to experience and safeguard cultural traditions.
¡Viva Mariachi! at Napa Valley College offers a unique opportunity for our community to learn how these programs are thriving throughout the U.S because of their effective role in student success, all while enriching the cultural vitality and musical traditions of their institutions and surrounding communities.
Buy Viva Mariachi Tickets HERE
2023 LINEUP
Three Award Winning Bands from Three Levels of Education
Mariachi Los Gavilanes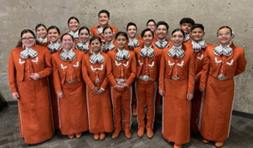 Mariachi Los Gavilanes of Monaco Middle School has been serving the Las Vegas community since 2002. They are one of the nation's largest mariachi programs. Mariachi Los Gavilanes has represented the Clark County School District with performances in Arizona, California, Nevada, New Mexico, and Texas.
Mariachi Cantares de Mi Tierra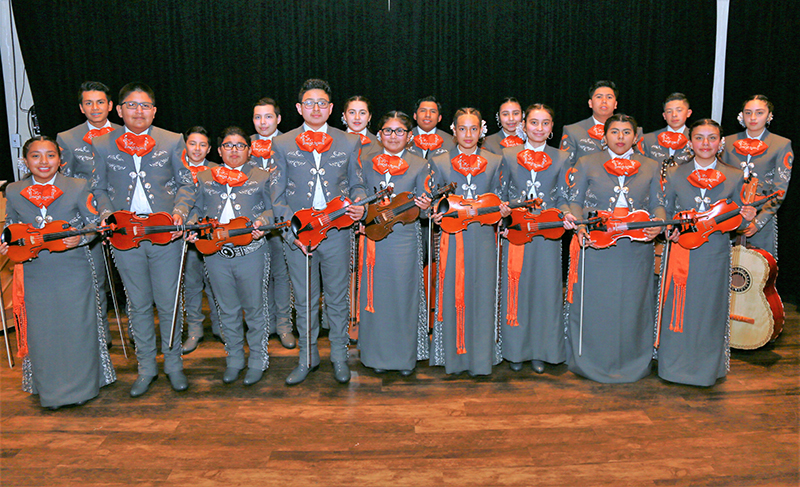 Mariachi Cantares de Mi Tierra from Santa Rosa is returning by popular demand! Led by Luther Burbank Center's music specialist, José Soto, they recently opened for the world-famous Mariachi Vargas de Tecatitlan. They are frequently invited to high-profile mariachi competitions and all of the performers in the year-round program have previously participated in one of the Luther Burbank Center's three-week mariachi camps.
Mariachi de Uclatlán

Mariachi de Uclatlán, the first collegiate mariachi group in the nation, was founded in 1961. Hosted by the the University of California at Los Angeles (UCLA) Department of Ethnomusicology, Mariachi de Uclatlán is a student group dedicated to the performance of traditional Mexican music. For the past 30 years they have been under the leadership of Jesús "Chuy" Guzmán, a 2020 Grammy Award Winner for Best Regional Mexican Album as a part of Mariachi Los Camperos.
VIVA MARIACHI HOTEL INFORMATION
The Hampton Inn & Suites by Hilton is offering a discounted rate to guests attending the Viva Mariachi Festival on April 1, 2023. The hotel is conveniently located near to the college (a 1 mile/4 min drive or about a 15-20 min walk). Rooms are limited, so attendees are encouraged to book as early as possible.
Hampton Inn & Suites by Hilton
945 Hartle Court
Napa, CA 94559
(707) 255-4000
How to Book your stay
Book your discounted rate by calling us directly at (707) 255-4000 or call 1-800-HAMPTON and use your Corporate Account # 0003233868.
Follow the link to book online:
Nearby to entertainment and attractions:
Napa Valley Wine Train
Oxbow Public Market
South Napa Market Place,
South Napa Century Center
River Park Shopping Centers
Please consider a gift of support for this Napa Valley College annual event celebrating music, community, and learning.
NVC's generous donors and sponsors allow us to keep ticket prices low, reimburse performers for travel, and cover operational costs of the event. They are also assisting us with developing local mariachi music education programs for all ages.
The festival connects our community to higher education and offers an opportunity to see firsthand how mariachi programs are thriving in the U.S and how they serve to enhance students' academic performance.
Mariachi programs enrich the cultural vitality of educational institutions and surrounding communities.
¡Viva Mariachi! is fully funded by the generosity of supporters, sponsors, and patrons.
Please consider a gift of support or sponsorship of this rich, cultural event celebrating music, community, and learning in the Mexican tradition.
Email us if you have another way to support Viva Mariachi
Donations to ¡Viva Mariachi! are accepted through the Napa Valley College District Auxiliary Services Foundation (NVC DAS), a public benefit, non-profit organization. NVC DAS is a tax exempt 501(c)(3) non-profit organization. Donations are tax deductible as allowed by law. EIN# 46-2918583
For questions, please contact Carollee Cattolica, Director, Enterprise & Auxiliary Services. ccattolica@napavalley.edu