Disney's 'Tale as Old as Time' hits the mainstage at Napa Valley College Performing Art Center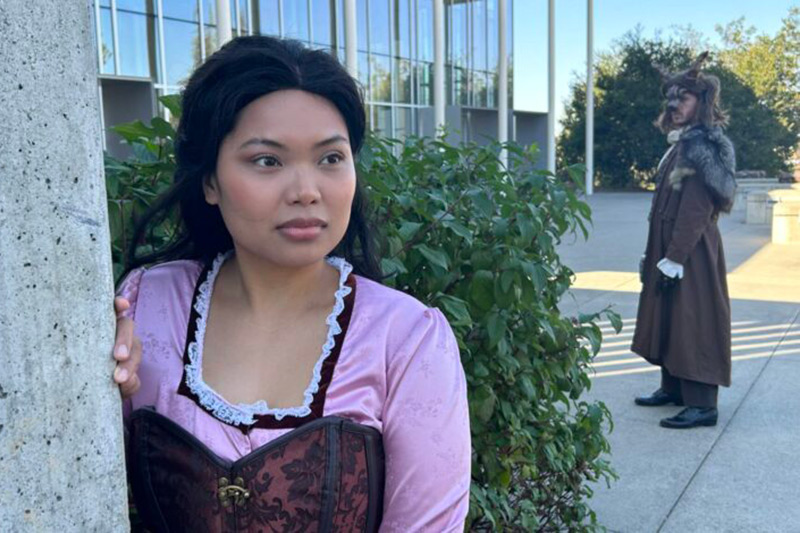 Napa Valley College (NVC) Performing Arts and Cafeteria Kids Theater present a co-production of Disney's "Beauty and the Beast" November 4-13.
The classic story tells of Belle, a young woman in a provincial town, and the Beast, who is really a young prince trapped under the spell of an enchantress. If the Beast can learn to love and be loved the curse will end. But time is running out. If the Beast does not learn his lesson soon, he and his household will be doomed for all eternity.
The cast is comprised of local youth actors, NVC students, community actors and guest artists. All performances are accompanied by a full live orchestra. "This is the first time in years that we have had a live orchestra in the pit and 'Beauty and the Beast' is the perfect vehicle for its return with a gorgeous score that is almost another character in the show," shared Musical Director Dr. Christina Howell.
"Beauty and the Beast" is directed by NVC Theater faculty and co-directors of Cafeteria Kids Theater (CKT), Aimée Guillot and Olivia Cowell, who shared their excitement to continue the partnership.
"We have loved every moment of collaboration with this incredibly talented cast and extraordinary production team," says Guillot. "We are thrilled to be back in partnership with Napa Valley College, which affords our CKT youth actors the ability to work with industry professionals and rehearse and perform on the beautiful Napa Valley College Performing Arts Center stage."
Audiences may remember crowd favorites like "Elf the Musical" (2021) and "Matilda" (2019) presented through this partnership.
Co- director Cowell explains why "Beauty and the Beast" was such a draw to produce, "This musical has got it all: unexpected heroes vs. villains, a strong female lead on an adventurous journey, a comical cast of castle creatures, all set to a beautiful musical score. Working with this gifted cast and talented production team has created a unique spin on this beloved story. Audiences will be transported to Belle's provincial post-World War II French town, and the Beast's steampunk enchanted castle."
Performances are on November 4, 5, 10, 12 at 7 p.m., November 6, 13 at 2 p.m. Tickets are $25 for General, $20 for Student/Senior, and $15 for Youth (12 and under).
This production is recommended for audiences of all ages. The runtime is two hours and 15 minutes. All performances will be held on the mainstage of Napa Valley College Performing Arts Center. Tickets are available on https://performingartsnapavalley.org/.
About Napa Valley College Performing Arts
Napa Valley College Performing Arts creates high quality-instructional theater and music experiences on stage and in the classroom. Serving all segments of the community including transfer students, lifelong learners and college staff, students are offered the opportunity to learn from professional artists in a way that inspires a passion for the artistic process. Napa Valley College is committed to student success by creating nurturing and inclusive environments that promote self-discipline, positive self-esteem, critical thinking skills and teamwork. For more information, visit performingartsnapavalley.org.
About Cafeteria Kids Theater
Cafeteria Kids Theater (CKT) is a unique performing arts program that uses theater as a vehicle to bridge different ethnicities, backgrounds and perspectives. Through full-scale musical productions, in-school residencies, after-school classes, acting workshops and summer camps, CKT has impacted more than 6,000 students in Napa Valley since its inception in 2006. CTK encourages children to investigate the commonalities that exist in all people as they journey through the creative process which, in turn, builds inner confidence, imagination and empathy. Cafeteria Kids Theater's goal is to give children of all ages the tools they need to discover the artist within them and live in the world from a place of creativity, compassion and love. cafeteriakidstheater.org/.