Bennett's 35, Gleeson's late 3-pointer key NVC women's basketball team in 'amazing win' over Yuba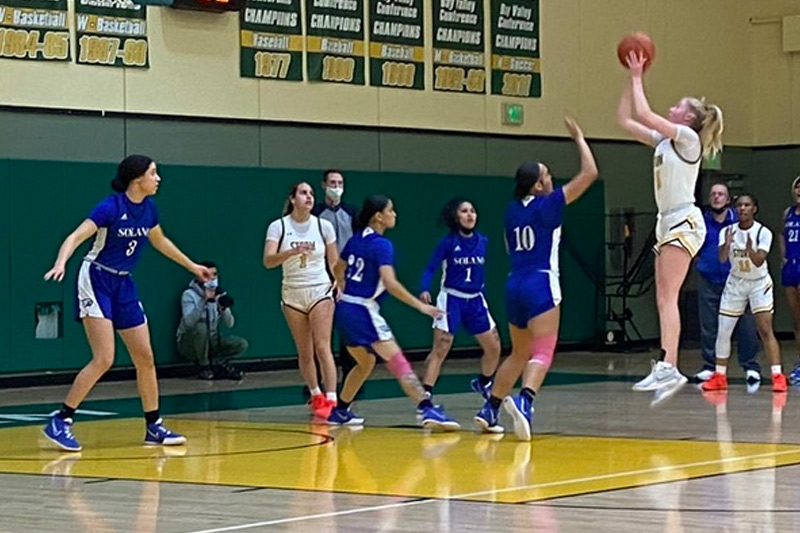 The 20-point lead in the fourth quarter.
The season-high 35 points for Amaree Bennett, who also had eight 3-pointers on the night.
The game-winning shot – a 3-pointer from deep in the right corner with just 3.7 seconds to go – by Nicole Gleeson.
The way the team rebounded and played defense, limiting Yuba College-Marysville, the second-place team in the Bay Valley Conference, to just nine points in the second quarter and only eight points in the third quarter.
"I'm just really proud of the way the team played, and the way they stuck together," said Paul DeBolt, head coach of the Napa Valley College women's basketball team. "Super excited. We've lost several close games this year. To get one was really special. They are so happy. It's just so nice to see because you work so hard.
"It's an amazing win."
In one of the program's greatest wins in school history, Napa Valley came from behind late in the fourth quarter to beat Yuba on Friday night, 58-57, as Gleeson hit an off-balance 3-pointer after getting an offensive rebound on a missed free-throw attempt by Bennett.
Yuba outscored Napa Valley 25-9 in the fourth quarter and went ahead by two points, 57-55.
Yuba was also ahead 56-53.
"Basketball is a game of runs. Sometimes the momentum gets going your way. It was going Yuba's way and everything was going right for them until Nicole's shot. It was spectacular. Great basketball game," said De Bolt.
Napa Valley took the ball down court and Bennett was fouled with 6.6 seconds to play and trailing by two. Bennett missed both free throws. With no timeouts left, Gleeson got the rebound from a missed free-throw attempt and took the ball to the right corner of the baseline.
"Nicole just kept going out to the corner. She knew she had to shoot a 3. It's an amazing shot. It's from the deepest part of the right corner. A little bit behind the backboard. And it goes in," said De Bolt.
Gleeson's shot gave the Storm a one-point lead.
Yuba turned it over on its next possession. NVC then ran out the clock.
"It was one of the best wins I've ever had as a coach. Obviously, since I've been at Napa, it's our greatest win," said De Bolt.
"To not give up and to come back and get that one was amazing.
"You play basketball, both ends of the floor. It's a complete game. And to win games like that, your team has to put together a complete game. Nicole is so deserving. She has worked so hard, with all the time and effort that she has put in. For that to happen to her in that game was just amazing. She didn't give up. She got that rebound. She knew she had to shoot a 3. She goes out. She fires it up and it goes in."
Bennett was 13-of-19 shooting from the field and 8-of-13 from the 3-point line to lead Napa Valley (11-15 overall, 7-7 Bay Valley) in scoring.
Gleeson scored eight points on 3-of-7 from the field. She also had 20 rebounds (six offensive boards), three assists, four steals and five blocks.
Alliyah Fernandez had six points, four rebounds, four assists and three steals.
Marty James is a freelance writer who makes his home in Napa. He retired on June 4, 2019 after spending 40 years as a sports writer, sports editor and executive sports editor for the Napa Valley Register, a daily newspaper in Napa County. He is a 1979 graduate of Sacramento State and a member of the California Golf Writers & Broadcasters Association. He was inducted into the CIF Sac-Joaquin Section Hall of Fame in 2016 and the Vintage High School Athletic Hall of Fame in September of 2019.